8STA Series - The Motorsport Connector
13/05/2020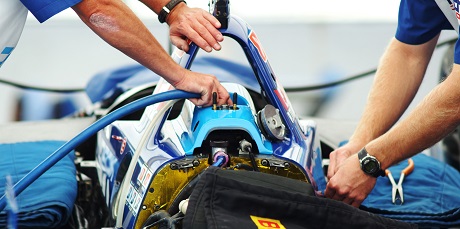 The 8STA Series from SOURIAU has become a benchmark for high performance connectors in the world of motorsports. Its compact size and low mass, coupled with its incredible robustness and resilience to shock & vibration, has made it the connector of choice at the highest levels of motorsport, with Formula 1, INDY, GP2, Formula E, World Rally and Endurance Racing all using 8STA connectors extensively. Designed and manufactured a few miles from the legendary 24 Hours of Le Mans circuit, SOURIAU has a long history of supplying 8STA connectors to racing teams looking for the ultimate in electrical performance enhancements for their machines.
8STA connectors are commonly found on steering boss systems, temperature and pressure sensors, data acquisition systems, electronic control systems and inside fuel tanks.
Miniaturisation: A Design Challenge
The 8STA Series is a connector range derived from Eurofighter aircraft connector standards, where highly reliable, lightweight high density solutions, able to withstand high levels of shock and vibration are a pre-requisite. For more space restricted platforms such as racing cars, the challenge was miniaturising these connectors whilst maintaining the same electrical, mechanical and environmental performance characteristics according to the needs of motorsport customers.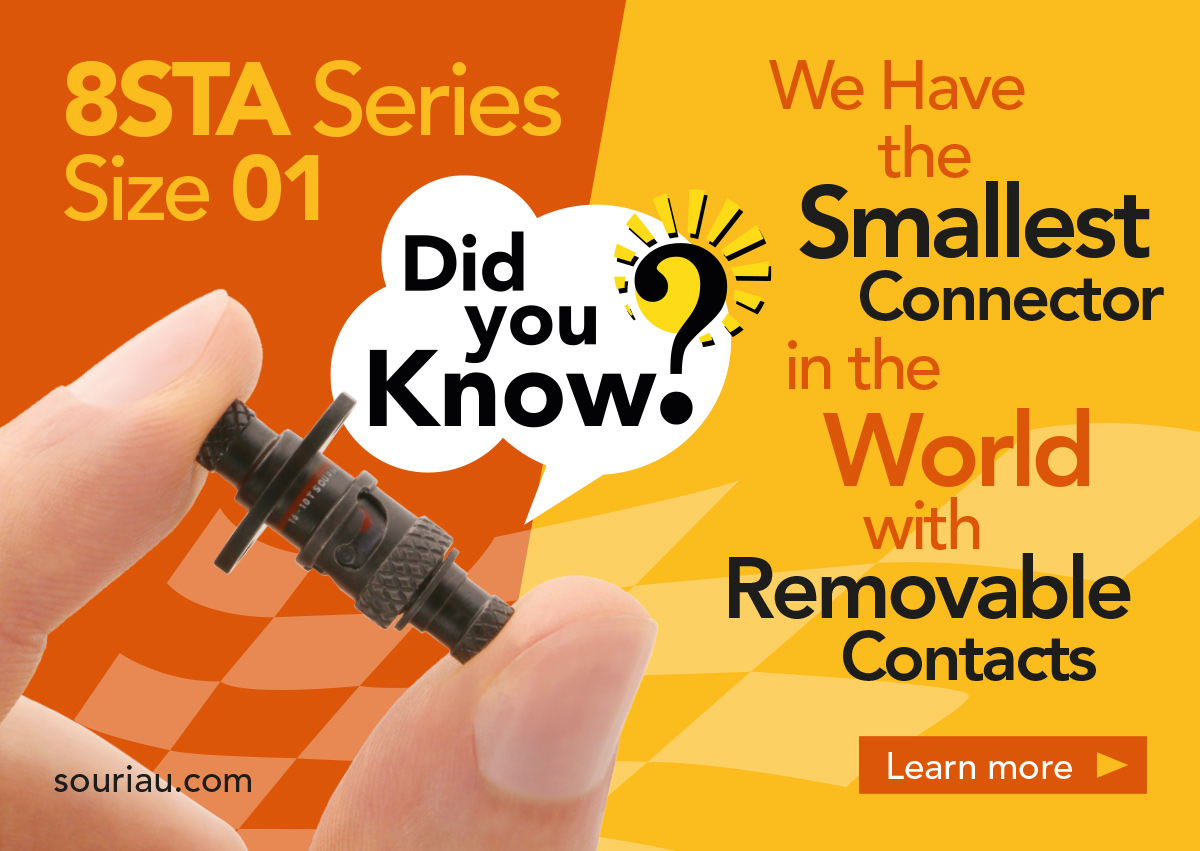 Manufacturing miniature connectors, requires a high level of skill and expertise; processes need to be very well defined and have strict controls in place to maintain the fine tuning required to repeatedly produce and deliver high quality products, this is especially true when dealing with very small components, materials types and plastic injection moulding processes.
There are a number of important technical considerations that need to be taken into account when designing and manufacturing connectors for the Motorsport industry; electrical performance characteristics such as signal transmission and insulation resistance are key aspects, because long term reliability of data and power distribution can make the difference between a DNF (Did Not Finish) and winning a race. The choice of materials is also critical because each application may have different requirements such as resistance to fuel, lubricants or other fluids; the mechanical design is also important as the connectors need to be able to endure over 500 mating cycles, remain secure under high vibration, and need to be user friendly to the technician who may have very limited time to mate and un-mate the connectors during a race pit stop.
A range in constant evolution
Race teams are continually searching for design innovations that will give them a competitive advantage; weight distribution has an important impact on the way a car handles on track, so every gram saved on components where weight is not needed means that car designers have the flexibility to redistribute the weight to an area of the car that will bring performance improvements. For this reason, size and weight reduction remains a key focus in terms of connector evolution, so the trend for connector design is certainly towards further miniaturisation and greater contact density. This means a great deal of design innovation and 'out of the box' thinking, giving rise to the introduction of new materials and designs to facilitate the introduction of solutions to bring teams the competitive advantage they all crave.
Another major trend is linked to environmental regulations such as RoHS and REACH. We aim to find solutions that comply with these, since the latter not only concerns the substances present on the finished product, but also those used throughout the production process. Developing connector solutions that are RoHS and REACH compliant helps our customers to ensure that their products are compliant too.
Recently, we developed a size 01-03 connector, which is about the size of a push-pin – less than 2 cm long and with three #26 (0.5mm diameter) contacts. This ground breaking development has taken miniaturisation to a new level and is the blue print for further enhancements, keeping pace with market demands for size and weight reduction whilst maintaining high mechanical and electrical performance integrity. As miniaturisation becomes increasingly important, so too are the visual and mechanical safeguards we need to have in place to prevent mistakes in mating the wrong connectors together, so for this purpose, colour coding and mechanical keying options are a standard feature across the entire 8STA range.
A customer-oriented approach that pays off
SOURIAU's Lahoucine Bensalama, 8STA product manager adds: "Aside from the technical specs, another major requirement of customer focus is logistics. Product availability and quick delivery, especially for high-level racing teams, is of critical importance. To meet this demand, it is essential to have a robust supply chain strategy, with key distributors around the world having a strong focus on the Motorsport market and well established relationships with all customers needing our product and technical support".
SOURIAU historically works in close proximity with its customers and partners, and is proud of its customer-centric, engineer-to-engineer approach, which drives innovation and efficiency. The manufacturer regularly collaborates with its customers' engineers to develop products that meet their requirements, and what starts as a specific customer project sometimes can develop into a new catalogue product on the market. This was the case with the fuel tank and quick release version of the 8STA series, both of which started life as customer specials and have now become standard components in race car harnesses.
SOURIAU doesn't only focus on Formula 1 and professional racing teams; the company also dedicates time and resources to sponsor and accompany Formula SAE student racing teams. These teams design and build their cars from scratch and compete in a race at the end of the year. Last year SOURIAU collaborated with Poly eRacing, the electric Formula SAE team of engineering school Polytechnique Montréal. The team received a number of 8STA connectors as well as technical advice and support to design and install their electric racing car harness. For the youngsters, it's a great opportunity to work with world class components and benefit from practical field knowledge that SOURIAU is able to share with them.
For SOURIAU, it is also the opportunity to interact with young future engineers who are pioneering new technologies and concepts, and the belief is that forging a relationship with them at this early stage will familiarise them with SOURIAU products and knowledge. The sponsorship is part of a wider strategy to drive innovation within the company but also with external partners.
SOURIAU's open innovation strategy
SOURIAU has launched the concept of open innovation at its key sites; this process involves the collaboration of all the partners we work with in our innovation processes in order to achieve the broadest possible solutions. Today, at SOURIAU, anyone from a machine operator to the plant manager is invited to contribute to innovation in the company, as well as our suppliers, our customers, and local partners.
SOURIAU has been a pioneer in the innovative use of materials that reduce the impact on humans and on the environment long before international regulations such as REACH came into force, and reducing our environmental footprint is one of the key areas of focus of our R&D department.
Another high priority for us is the development of solutions for hybrid or fully electric transport, which require new types of interconnect solutions for power distribution and management that will be used in new mobility technologies including electric cars of course, but also hybrid or completely electric airplanes in the next decades.
One of our recent and really exciting innovation projects revolves around optical sensors that measure carbon dioxide and nitrogen oxide directly in the engine exhausts, which will allow the engine manufacturers and airframers to gather data and significantly optimize their equipment in order to reduce air pollution.
SOURIAU - SUNBANK Connection Technologies is a world leader in the harsh environment interconnect solutions market with a strong culture of operational excellence. Composed of two highly respected interconnect brands, SOURIAU and SUNBANK, the company designs, manufactures and supplies high-performance and high-reliability interconnect products including connectors and accessories for aerospace, defence, marine, energy and various other key industries.
Available in:
Simplified Chinese: SOURIAU 8STA系列为世界赛车领域的高性能连接器的标杆
German: Die SOURIAU 8STA Serie, ein Maßstab für Hochleistungssteckverbinder in der Welt des Motorsports
Spanish: La serie SOURIAU 8STA: una referencia para conectores de alto rendimiento en el mundo del motor
French: La série 8STA de SOURIAU, une référence en matière de connecteurs haute performance dans le monde du sport automobile
Italian: La serie SOURIAU 8STA è un punto di riferimento per i connettori ad alte prestazioni utilizzati negli sport motoristici
Japanese: スリオの8STAシリーズ、高性能コネクタとしてモータースポーツの世界で業界標準の一つに
Korean: 소리우(Souriau)의 8STA 시리즈, 모터스포츠 분야에서 고성능 커넥터 벤치마크 수립
English: The SOURIAU 8STA series, a benchmark for high-performance connectors in the world of motorsport