SOURIAU Esterline Connection Technologies wins its 7th Industrial Excellence Award from Airbus Electrics for its performance in 2017 as a supplier of connectors
26/01/2018
This year once again, the award-giving ceremony for the best suppliers of electrical components was held in the offices of Airbus in Toulouse. SOURIAU, who was the big winner out of the thirty-two companies that competed, was distinguished with the prestigious Industrial Excellence Award for the seventh time in nine years.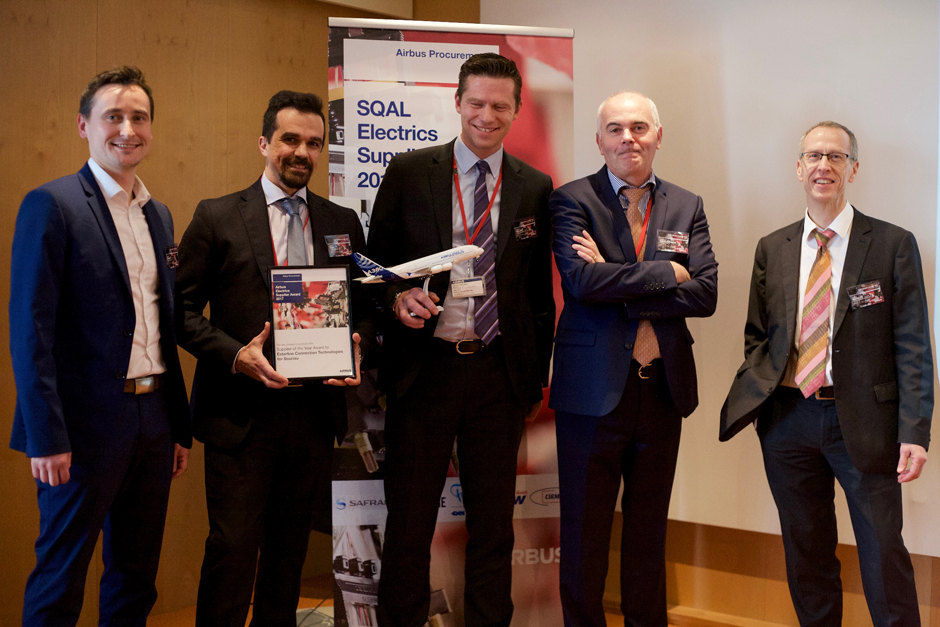 The trophy was presented jointly by the Director of Airbus Electrical Procurement and its principal suppliers of electrical harness to Patrice Cavelier-Bros, President of SOURIAU, Patrick Kalukin Director Major Accounts Europe, Pietro Pavia Key Account Manager for Airbus and Safran, and David Chemin, Sales Engineer for Latécoère.
A field of very tough competitors
The thirty-two companies who competed for the Industrial Award 2017 are all specialists in manufacturing electrical components used by Airbus. These include products as diverse as connectors, cables, relays, circuit breakers as well as electrical contacts, sleeves and terminals. All the suppliers are progressing in the two fundamental criteria; product quality and delivery lead times, so the competition gets harder all the time.
SOURIAU, which constantly strives for performance excellence, received the award for its technical, industrial and logistics performance.
Indispensable connectors
SOURIAU was the first to invent the circular bayonet connector and since then has never ceased evolving its products. In aeronautics, SOURIAU connectors can now be found around the motors, on the calculators, in the power distribution and (with the migration from hydraulics to electrics) in the flap actuators. SOURIAU is present in all sections of the aircraft, the cabin, cockpit, motors and landing gear. Very different types of equipment have to be connected together, for example the on-board equipment, screens and temperature and pressure sensors. Not only this, an aircraft assembly line is actually the assembly of a series of segments that fit together, with several hundreds of connectors and several kilometres of cable and harnesses.
SOURIAU's motto: always keep progressing.
As Patrick-Cavelier Bros, President of SOURIAU says: "Thanks to the commitment shown by all the teams, we achieved excellent results again in 2017 and reached or even improved on the goals we have been set. The small margin for further progress that we have available, means we have to strive each day to reach the best level of performance in manufacturing, production control, delivery and product quality. The way forward is to continuously improve our methods and production tools to achieve excellence. This trophy, which I am honored to receive today, is a reward for all Souriau personnel. For me, it is even more emotional because in 2017, SOURIAU celebrated its 100-year anniversary."