Innovation is at the heart of Esterline Connection Technologies – SOURIAU's development strategy
17/01/2018
SOURIAU is recognized throughout the world for its interconnection solutions used in aerospace, defense, and industry. Innovation has been the driving force behind the company's growth since 1935, when it created the very first bayonet connector. "We have achieved a level of excellence in interconnection needs that is recognized by our industrial customers. The many awards that we have received shows this", says Patrice Cavelier-Bros, President of SOURIAU. "However, in order to identify perspectives for our future, it seems essential to me that we incorporate innovation - be it radical, disruptive, or incremental - at every level of our company. Adrien Lecossier, a PhD student at LAMPA, is leading the creation of a structure to deploy innovation throughout SOURIAU from our plant at Champagné".
Incremental innovation
SOURIAU maintains its leading edge in the highly competitive interconnections market by reinventing itself through incremental innovation of its R&D investments, connector manufacturing and assembly operations, and logistics operations. It achieves this by studying novel materials, scheduling and upgrading processes, and implementing the just-in-time inventory systems requested by its customers. Innovation is what enables SOURIAU to control its costs, protect its margins and keep in step with its customers, and maintain its operations at the highest level.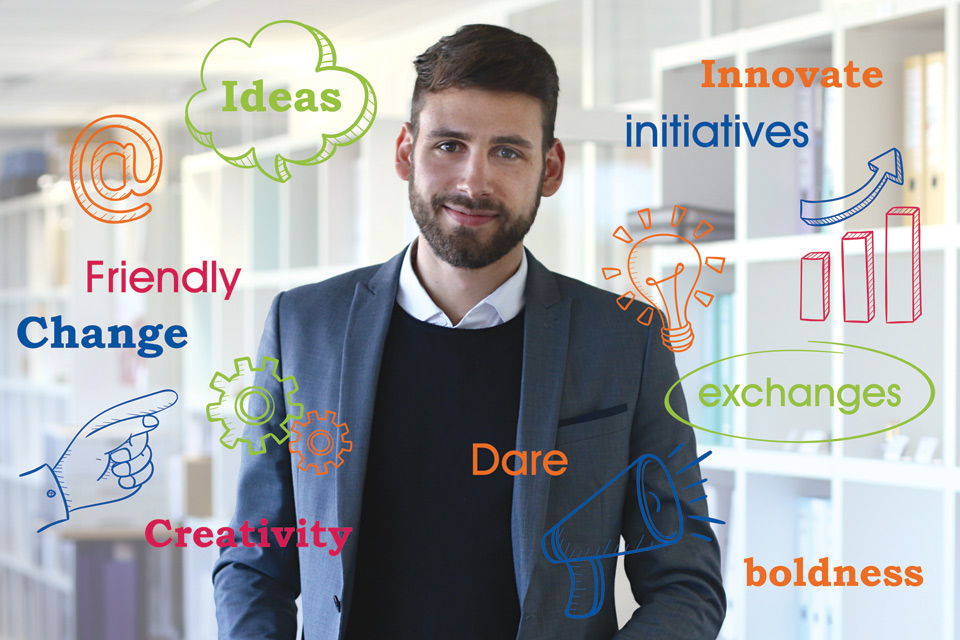 Adrien Lecossier, a PhD student at LAMPA, is leading the creation of a structure to deploy innovation throughout SOURIAU from our plant at Champagné
SOURIAU's innovation structure
In addition to incremental innovation, SOURIAU's idea is to stay ahead of and stand out from the competition by seeking out radical — and even disruptive — innovations in order to continue to generate value. The radical goal will be reinvent the interconnections market. "My job is to create SOURIAU's new model of innovation, which every employee, regardless of their level in the organization and without any taboos or prejudices, will be able to use to develop novel solutions", says Adrien Lecossier. "This structure provides a defined framework that allows employees to become co-entrepreneurs of innovation projects and strengthen, direct, and enrich their collaborative relationships. Everything from products, technologies, design, and production to marketing, order management, distribution, and customer service is on the table and all ideas that involve the use of new tools such as artificial intelligence, printed electronics, additive manufacturing, robotization, the Industrial Internet of Things (IoT), and even delivery drones are welcome. SOURIAU's employees, customers, and suppliers are invited to take part in this vast experience in driving innovation in SOURIAU's industrial field".
Collaborative innovation launched at the Champagné plant
"The Agora experiment conducted in June 2017 at the Champagné plant is the foundation stone of SOURIAU's innovation", Adrien continues. "Agora, which will be fully in place in May 2018, is a collaborative workspace where groups of volunteer employees at the plant can come together to discuss a common project in terms of a specific innovative technology. An engineer will facilitate these discussions and guide each group's work. SOURIAU is a mature company, meaning of course that it is less flexible than a start-up. However, it and its employees have a hidden source of skills. In term of disruptive innovation, teamwork is an obvious way to shatter established codes and test novel approaches throughout a company's operations. This leads to new concepts which may create new work methods, cause shifts in careers, and even create new ones". When the Agora digital touch screens are rolled out, the Champagné plant will be able to connect with SOURIAU's other plants and the entire Esterline group.
Collaboration with customers
Our customers are under increasing pressure to produce more, faster, better, and cheaper. Connectors may be mere components, but they play an essential role in the assembly and maintenance of aircraft sections. In an industry where stringent standards are widespread, key buyers of aerospace systems and equipment are interested in innovation because it provides them with the opportunity to compare ideas. Although the interests of customers and suppliers can differ from those of SOURIAU, everyone must come out a winner.