Operating temperature range: -40° + 105°C
LC, MPO and Hybrid layouts available
Sealing: IP68 and IP69K
UV resistant with F1 material
Standard: UL94V0 / UL94HB
RoHS and REACH
250 mating cycles
Key features and benefits
UTS Fiber Optic Connector
The UTS series is a robust circular plastic connector with a 1/3 bayonet coupling to quickly connect and secure the connection system that can integrate high speed fiber optic contacts, making it ideal for the datacom industry.
Developed to be compliant with major electrical IEC and UL standards, the UTS guarantees safety conditions for the installers and users.
Waterproof and UV resistance capabilities (IP68/69K sealing level) provide the UTS series long outdoor life expectancy and reduce the need of connector maintenance.
The UTS series offers a large choice of layouts with options to mix signal and power or copper and optic within the same connector.
Available with a large selection of shells, a standard cable assembly offering provides complete interconnect solutions to simplify your supply chain.
UTS connectors use the Trim Trio contacts and are fully compatible with the UTG and UTO series that provides the option to switch from one series to another without tools or panel cut-out modifications. Your product upgrade is easier, faster and without additional costs!
UTS for Fiber Optics
For fiber optic technology, it has multiple variants including the LC version, the MPO version and hybrid variations. They are compatible with standard LC and MPO fiber contacts, making installation and maintenance faster and cheaper.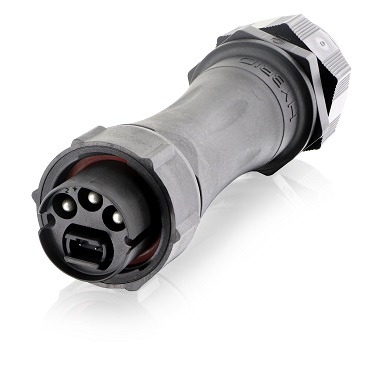 An example of SOURIAU's hybrid (optical and electrical) connector interface
Examples of application field
The UTS Fiber Optic Series is ideal for FTTA, FTTH and PTTA applications as well as outdoor and dynamic environments requiring continuous underwater immersion, routine pressure washing and dust protection.