Operating temperature range: -55°C to +125°C
Durability : 500 mating/unmating cycles
Salt spray resistance : up to 500 hours
Flammability rating : UL94 HB
RoHS & REACH compliant configurations available
Key features and benefits
MIL-DTL-26482 Series I Connectors
The 851 series is a bayonet locking circular connector fully qualified according to the MIL-DTL-26482 series I standard. It is used in a variety of aeronautical, military and industrial applications.
851 connectors are ideal for applications with harsh environmental conditions due to their high number of mating cycles (500) and resistance to corrosion (500h salt spray).
An audible click ensures a quick and proper mating with a 1/3 bayonet coupling system. This feature eliminates uncertain connections and saves time as well as effort during installation and manipulation.
The 851 series is available in RoHS and REACH compliant versions, and is qualified according to the MIL-DTL-26482 military specifications. We also offer hermetic versions for applications where the connectors need to be airtight.
851 connectors are available in a large range of layouts, including hybrid power and signal transmission in a unique solution to reduce system complexity and minimize installation costs. They are also available with crimp, solder or PC tail contacts for optimal adaptability to your system.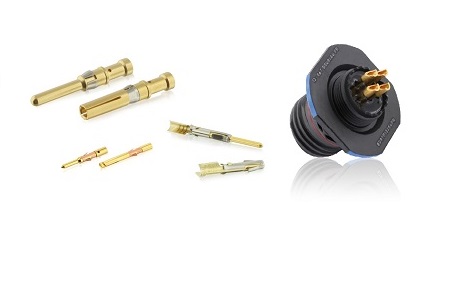 Resources - Choosing Contacts: Solder vs Crimp?
Have questions about our 851 series or need a quote? Our technical and commercial teams are ready to help.
Examples of application field
851 connectors provide a technical interconnect solution for harsh environment and are fully qualified according the MIL-DTL-26482 standard to meet aeronautical and military applications.
Complementary Product Ranges