All our aerospace and military standard ranges are available with EMI/RFI filter solutions for critical equipment in aerospace and military applications.
EMI and filter receptacles and adaptors enable electronic equipment to be fully protected with no EMI/RFI disturbance into or from the equipment.
Our solution
Key Benefits of Filter Connectors
Optimal filter position at equipment entry point : No EMI/RFI window into or from equipment and no need for Clean & Dirty Zones
Compact design : Same size as standard ranges to save space & mass in equipment
Fully configurable with Any LOW PASS Filter on any contact (Pi, C, LC, T), grounded, signal, power and high speed contacts, and capacitance values from 50 pF to 500 nF
Flexible with Capacitance values from 50 pF to 500 nF and Dielectric Strength from 500 Vdc
Excellent performances : Attenuation 1 levels from 60dB to 80dB minimum
100% of our filter connectors are tested before leaving our factory and are ready for installation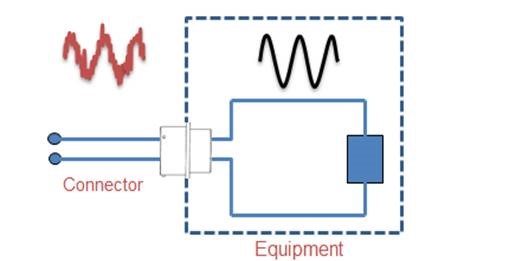 Description
Filter connectors have been developed from standard specifications. They are interchangeable in terms of mounting, and intermateable with standard connectors of the same series.
Different types of contacts can be fitted in these connectors: filtered, non-filtered, ground contacts. The filter contacts attenuate signals in different frequency ranges from approximately 100 kHz.
Capacitive and inductive components used for filtering are made of metallized ceramics and ferrites respectively. They have the shape of planar arrays over all the connect contacts.
Mechanical design and 100% testing carried out in production ensure a high level of quality and reliability.
Technical Data
Voltage rating : 200 Vdc or 100 Vdc, according to filter type.
Current rating : 5 A, 7.5 A or 13 A according to contact type.
Filters : capacitive, L or Pi filters from 100 pF up to 0.1 uF.