At SOURIAU - SUNBANK Connection Technologies, producing and distributing our products with the smallest possible impact on the environment is a key directive. For this reason, we have undertaken a series of actions to ensure that all the requirements of this directive will be met as soon as possible for every product that comes out of our facilities. SOURIAU-SUNBANK already offers RoHS compliant connectors for most applications, and you can find out more about them by downloading our RoHS Status document on European and China RoHS Directives and to find the RoHS Status of our main product ranges.
Our solution
RoHS Compliant Connectors
The European RoHS Directive 2011/65/EU and the delegated directive 2015/863 define maximum concentration limits for hazardous substances per homogeneous materials in electronic and electrical articles.
The regulated substances, their concentration limits and the main exceptions used by SOURIAU are listed in the form of tables in the RoHS document
The document also explains the RoHS China status of the SOURIAU product.
Contact us: contactrohs@souriau.com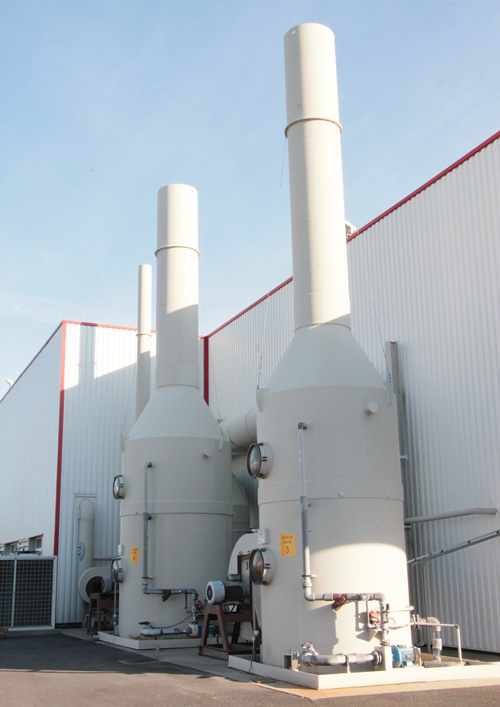 How to use the RoHS status ?
The aim is to explain to our customers the actual RoHS status of our products in an easy way:
- The RoHS status is explained by symbols
- The symbols are explained clearly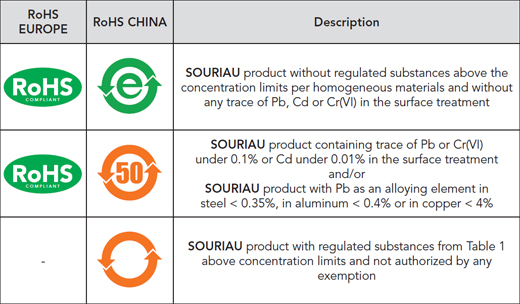 Table interpretation and meanings
The document contains the actual valid RoHS product status table.
In this table you will find:
- The connector designation with the necessary characteristics
- A Part Number example
- The relevant regulated substances
- A comment on the substances
- The RoHS Europe status expressed with a symbol
- The RoHS China status expressed with a symbol