Eaton provide a full range of high voltage and high current power solutions that will help you with the electrification of your aircraft. With different contact sizes, platings and materials, our high power connectors are suited to withstand harsh environmental conditions while providing high reliable interconnection systems of next generation aircraft. Whether it be for defense or aerospace applications following military and aviation standards, Eaton guarantees a high reliability and high performance for all your power needs.
For more information on our power solutions, please have a look to our product range below.
Our solution
Solutions for Power distribution on Electric or hybrid aircraft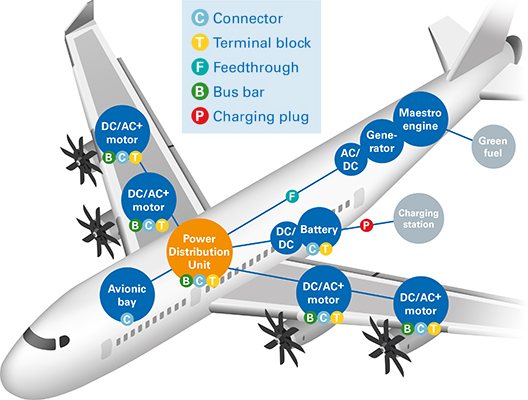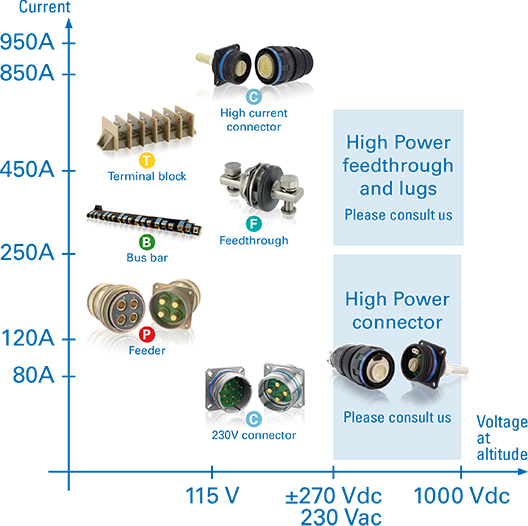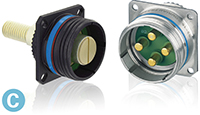 Electrical Connectors
Convinced by a proven experience of D38999 connectors or EN2997 connectors? Happy about the performances of these connectors in vibrations ? Eaton developed a range dedicated to high power solutions compliant with current rates up to 80A at maximum temperature of 260°C in peak. These connectors are already available for any applications on eVTOL, Hydrogen aircraft or hydrid aircraft. For more information, you can have a look to our product datasheets:
D38999 derived connectors for Power applications
D38999 derived connectors for High Power, up to 850A
EN2997 derived connectors for High Power, up to 230 Volts
EN2997 derived connectors for High Power on a box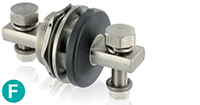 Feedthrough
Eaton developed a feedthrough range enabling to cross bulkheads while conveying signal or power. Whether you are looking to increase the modularity of your system, maintain pressure boundaries or convey high electrical power, we have the right solution for you, including Fireseals to prevent from fire propagation. This solution is typically used to pass from unpressurized area to a pressurized area.
Fireseal High Power Feedthrough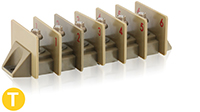 Terminal Block
The 209 series offer enable the connection from 1 to 12 terminals, with optional shunt. The 209 terminal blocks are mainly used for electrical distribution in aircraft equipment.
Terminal Blocks for Power Distribution

Busbar
the 208 Series are bus bars allowing the interconnection of different circuit breakers. Compliant with various terminals, 208 Series are the simplest solution for electrical distribution in aircraft systems.
Bus Bar for Power Distribution
Charging Plug
Eaton get a long & proven experience on charging plugs installed on worldwide aircraft platforms. This family is installed on pylons and engine nacelles to assure the electrical interface. They can supply current up to 260A per contact at 120°C.
Examples
Electrical actuators
Auxillary power unit
Electrical brake